I over-prepare for my own needs. I like to extend that preparedness to those around me, especially when they're not feeling well.
Below is an inventory of medicine and sundries available at my desk to any who need them. Please don't hesitate to ask!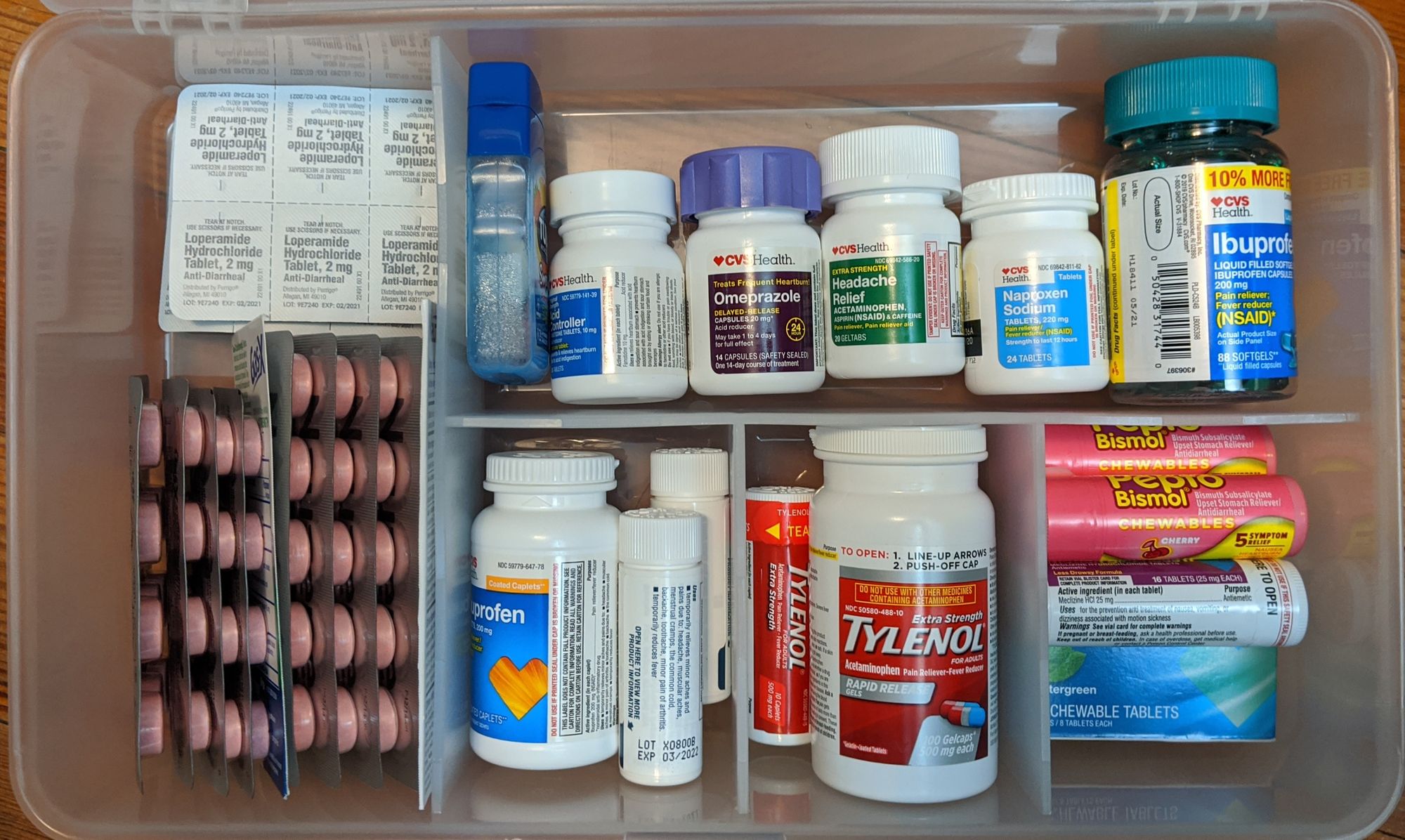 Inventory
---
Pain Medicine
General Purpose
Ibuprofen (Advil)

200 mg liquigels (CVS Generic)
200 mg tablets (Advil)
200 mg coated caplets (CVS Generic)

Acetaminophen (Tylenol)

500 mg caplets (Tylenol)
500 mg rapid release gelcaps (Tylenol)

Naproxen Sodium (Aleve)

220 mg tablets (CVS Generic)
Headache Relief
Acetaminophen, Aspirin, Caffeine (Excedrin)

250 mg, 250 mg, 65 mg geltabs (CVS Generic)
---
Stomach Medicine
Antacids
Calcium Carbonate (Tums)

750 mg chewables (Tums Smoothies - Assorted Fruit)
750 mg chewables (CVS Generic - Wintergreen)

Famotidine (Pepcid)

10 mg tablets (CVS Generic)

Omeprazole (Prilosec)

20 mg capsules (CVS Generic)
Nausea & Motion Sickness
Meclizine HCL (Dramamine II)

25 mg tablets (CVS Generic)

Sodium Citrate Dihydrate (Nauzene)

230 mg chewables (Nauzene)
Anti-Gas
Simethicone  (Gas-X)

125 mg chewables (Gas-X Cherry)
Anti-Diarrheal
Loperamide HCL (Imodium)

2 mg tablets (CVS Generic)
All Purpose
Bismuth Subsalicylate (Pepto Bismol)

262 mg chewables (Pepto Bismol - Cherry)
---
Cough & Cold Medicine
Cough Drops
Halls Menthol Cough Drops
Decongestants
Pseudoephedrine HCI (Sudafed)

30 mg tablets (CVS Generic)
Expectorants
Guaifenesin (Mucinex)

400 mg tablets (CVS Generic)
All-in-one
DayQuil (Acetaminophen, Dextromethorphan HBr, Phenylephrine)

325 mg, 10 mg, 5mg LiquiCaps (DayQuil)
Supplements
Airborne Original Gummies (Very Berry)
---
Allergy Medicine
Diphenhydramine HCI (Benadryl)
Cetirizine HCI (Zyrtec)
Loratadine (Claritin)
---
Eye Care
Systane Lubricant Eye Drops
Bausch + Lomb Renu Multi-purpose solution
Eyeglasses repair kit
---
First Aid
Assorted Band-Aids
Gauze Pads
Antiseptic Towelettes
---
Skin Care
Aveeno Hand Cream
Gold Bond Ultimate Skin Therapy Cream
Neutrogena makeup remover cleansing towelettes
Coppertone Sport SPF 50 Spray-on Sunscreen
---
Nail Care
Nail clippers
Nail file
Tweezers
---
General Hygiene
Dove Dry Shampoo
Degree Deodorant Wipes
---
Dental Hygiene
CVS Health Travel Toothbrush + Crest Toothpaste kits
Oral-B Glide Floss
Trident Original Flavor Gum
---
Menstrual Care
O.B. Pro Comfort Tampons (Regular, Super)
O.B. Original Tampons (Ultra)
Tampax Pocket (Regular, Super, Super Plus)
---
Laundry
Tide to Go Instant Stain Remover
---
Hand Sanitizer
CVS Sanitizer - Ethyl Alcohol 70%
Purell Singles (Take them to go!) - Ethyl Alcohol 70%
---
Batteries
Please use only if there are no rechargables in the office or if you need these for a device you are taking with you (medical, flashlight, etc).
AA Energizer Lithium
AAA Energizer Lithium
9v Energizer Lithium
---
Currency